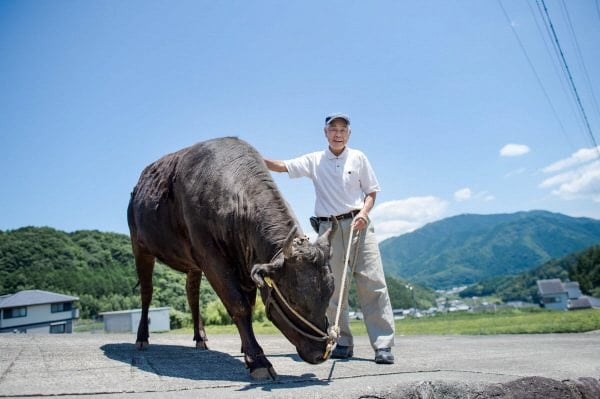 A gentle breeze, the sound of birds, the smell of greenery, the freshness of the air.

This is Fukano, the supposed birthplace of Matsusaka beef, in Matsusaka's mountainous area of Iinan.

It's here that I visited 88-year-old Tochigi Jiro, who's been raising cattle since he was 17 years old.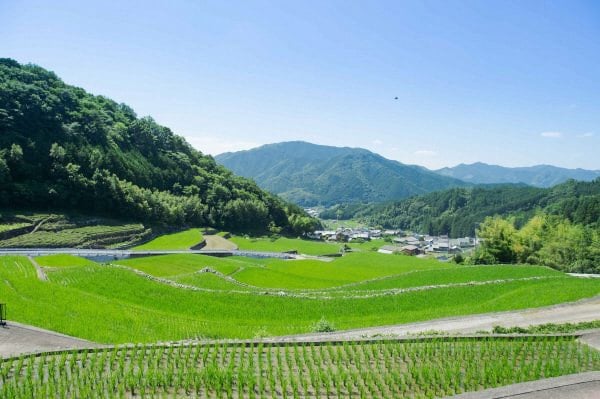 The Legend Raising Matsusaka Beef for 71 Years
When I peek into the cow shed, Tochigi-san meets me with a smile. Known locally as "The Titan of Matsusaka Beef," he's a legend among those who fatten cattle.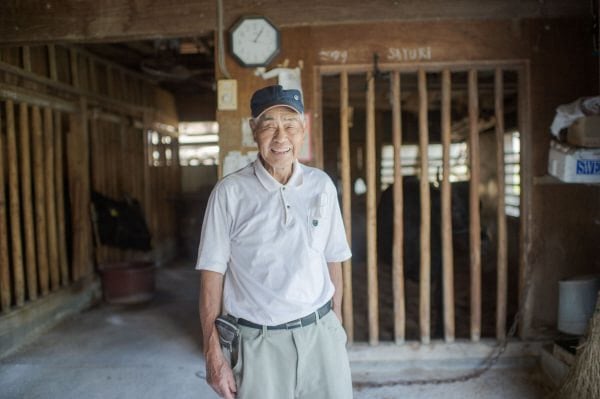 I can feel the pride for his craft in his dignified appearance.

And behind him, the cows poke their heads out.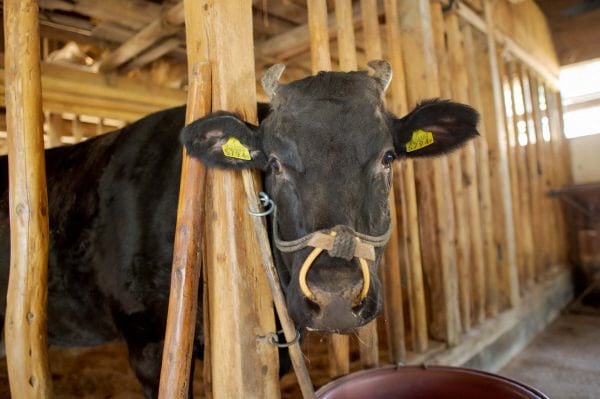 They have a strong sense of curiosity, and apparently it's normal for them to come out and say hi.

The cow shed is clean, and there's almost no smell. Rather, the faint scent of straw feels nostalgic.

Fukano, the birthplace of Matsusaka beef, sits at an elevation of 250 meters. With a mild, dry climate, fresh air, and clean water, it's an optimal location to raise cattle.

Previously, cows in Japan were used as labor animals, and people in Japan didn't begin eating beef until the Meiji period (1868-1912).

The use of retired cattle for their beef started to become widespread during the middle of the Meiji period, and the government also promoted the production of beef. Later, when imported grain began to be used for livestock feed and tractors became more common, the consumption of beef increased, and so did the number of farmers who began to raise and fatten cattle.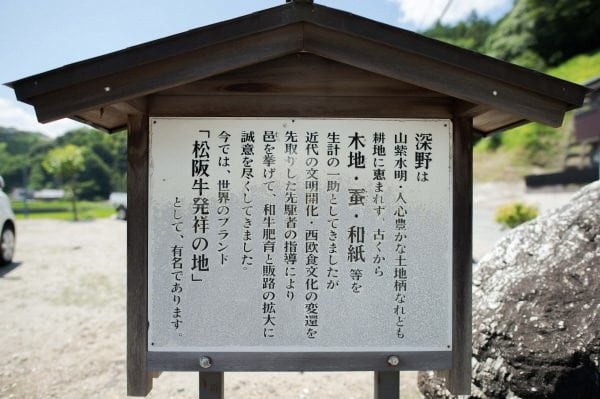 I spoke with Tochigi-san, the legend who dedicated an incredible 71 years to the craft of "Special Grade Matsusaka Cattle," about his life raising cows.

Memories of Eating Beef for the First Time
Our story takes us back to 1949, after World War II.

17-year-old Tochigi-san was apprenticed to Tagami-san, a livestock dealer living in the same area. Tochigi-san loved cows, and worked as hard as he could. A public servant's starting salary at the time was about 4,000 yen every month; in those days, 60 kilograms of rice was worth more than a month's entry-level salary.

Tochigi-san: Until 1949 I hadn't eaten beef and had no idea. Being at Tagami-san's, I had it for the first time, but most people in the countryside had only eaten rabbit, chicken, and wild boar. I think people for the most part hadn't eaten beef.

ーDo you remember the first time you had beef?

Tochigi-san: Of course. It was delicious (laughs). We went to one of our suppliers, he was cooking beef in a hotpot and he called me over: "Hey, good to see you, kid." Oh, it was so good. At the time, we didn't eat steak or grill the meat, it was all sukiyaki. After the war, back behind the station, people would be out cooking meat, you could really smell it. What a great smell.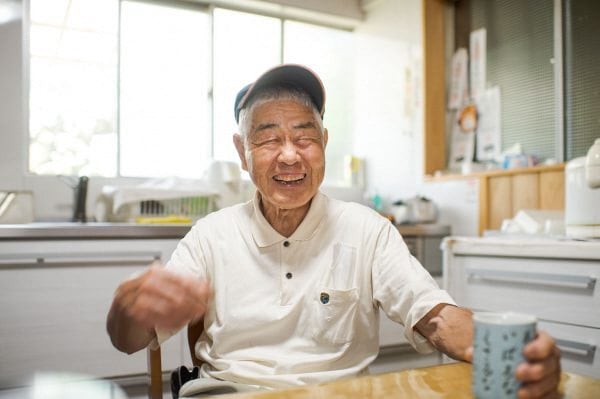 Seeing him smile and laugh, I get a sense of the delicious taste that's burned into his memory.

Special Grade Matsusaka Cattle: The Rarity That Accounts for Only 4% of Matsusaka Beef
From long ago, small but powerful heifers born in Tajima (Hyogo prefecture) and raised in Kishu (Wakayama prefecture) were brought to the Matsusaka region as work animals. With those cows, farmers developed the cultivation practices that are used to create the superior-quality Matsusaka beef.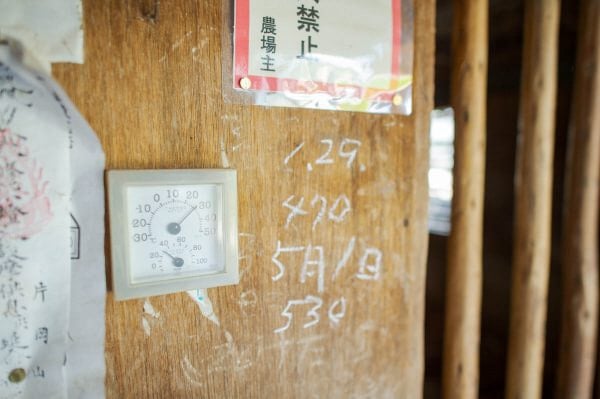 To be considered Matsusaka beef, cows must be females of the Japanese Black breed that have not yet given birth, and are registered with the Matsusaka Beef Management System. They must begin the fattening process in a designated cultivation area in Matsusaka before they reach 12 months old, and their time there must be the longest, and last, part of their life.

And Tochigi-san raises the even rarer Special Grade Matsusaka Cattle that accounts for only about 4% of all Matsusaka beef.

These special calves are born in Hyogo prefecture, brought to a designated cultivation area in Matsusaka when they are about 8 months old, and fattened for more than 900 days.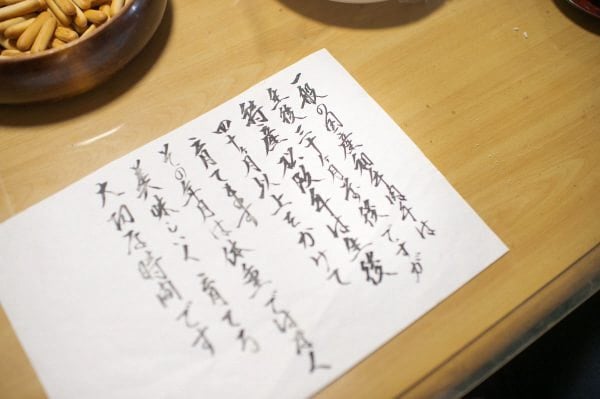 When Tochigi-san began raising cattle, he would have to walk his cows five and a half hours to bring them to market, and could only take one or two at a time. The streets were gravel, so to prevent the cows from damaging their hooves, he made them wear handmade straw sandals. If he wasn't able to sell his cattle, he and his cows would walk the five and a half hours home. When he was able to make a sale, he could take the train home.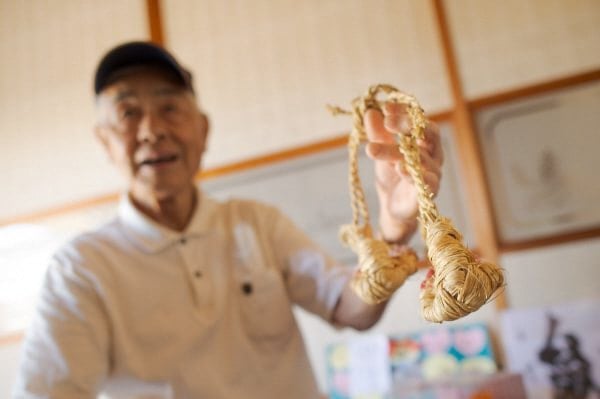 He also told me about a secret bit of fun he'd have.

Tochigi-san: Back then, there was a place next to the market called Bikkuri Udon, you could get a huge bowl of noodles for 40 yen. Even though a day's wage was 50 yen, I'd eat a bowl, then head to the sweets shop and eat some zenzai (sweet red bean soup). After that, I'd go to the theater that played Japanese period films and watch a movie, and then head home. There was a gas station by Matsusaka Station where trucks would stop. I'd wave one down, and catch a ride. It was evening by the time I got home, and my boss would get mad, say "where have you been!?" But I'd gotten 55 yen from him to catch the train, and I had such a good time (laughs). Life sure was different back then.

In 1953, Tochigi-san's employer bought a Mazda three-wheel. When it rained, he would go put coats on the cows. Four years later, they switched to a Toyota. In 1963, after working for Tagami-san for 15 years, Tochigi-san became an independent cattle farmer at the age of 32.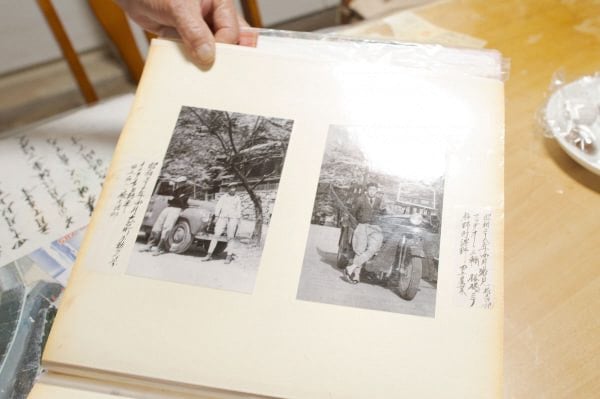 The Flavor of the Beef is in the Quality of the Fat
Considered a walking encyclopedia, even among other cattle farmers, Tochigi-san has won grand prize three times at the competitive exhibition, the "Matsusaka Beef Festival."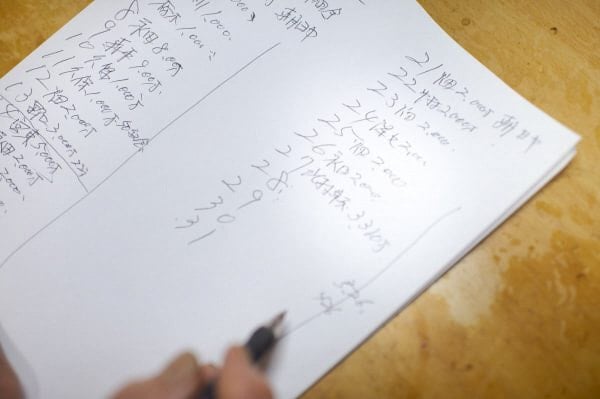 He smoothly wrote out the names of the farmers who won grand prize over the last 70 years, and the price their award-winning cows fetched at auction. What an incredible memory!

At the time, cows lived in the house as a member of the family. They were given cooked food, such as straw or grain boiled on a traditional stove. Since cows are timid and easily frightened, it's important to speak kindly to them, and pet them softly.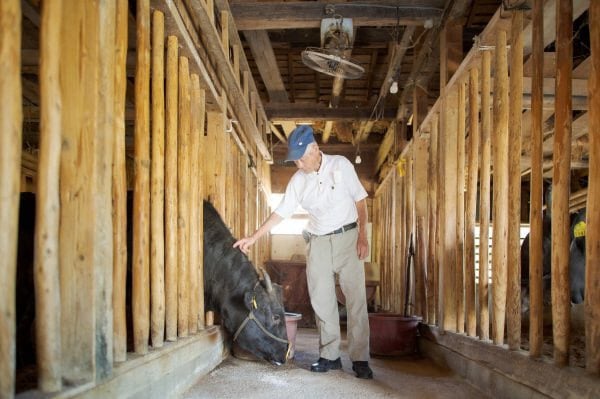 In 1963, Tochigi-san began keeping a diary, in which he also recorded details about the cows.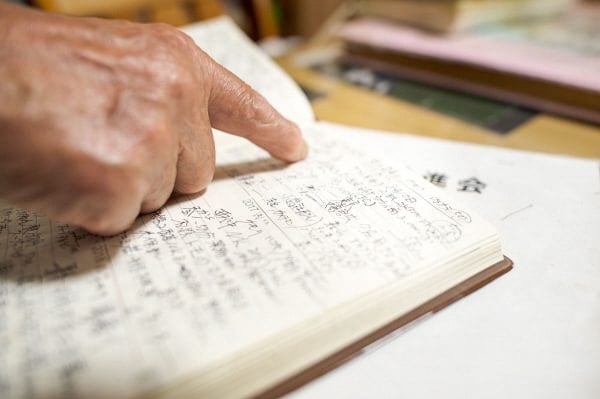 Occasionally the cows are given beer to stimulate their appetites, and are sprayed with shochu and massaged to create a uniform marbling of fat. Cows aren't able to scratch themselves, so they enjoy being brushed and shampooed. Finding ways to relieve the cows' stress is another skill to improve the quality of their beef.

It seems by giving each cow individual care and attention, they become so affectionate that they'll happily respond when their name is called.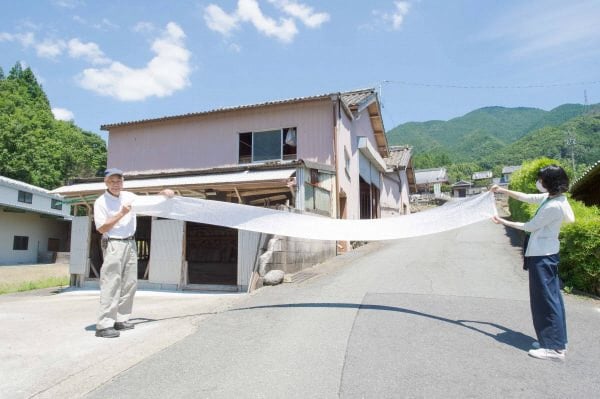 Master farmers use all the skills at their command to raise cattle, and suppliers only accept truly quality beef. Tochigi-san says this has motivated the cattle farmers, and is what has maintained the quality of Matsusaka beef.

Tochigi-san: "The taste of beef isn't just softness, it's the quality of the fat. Cows have a body temperature of 38℃ (just over 100°F), which is higher than humans. But if you put the fat of a cow that's been raised for more than 40 months in the palm of your hand, it'll melt. Like snow. The fat of cows raised for 30 months won't melt like that."

Special Grade Matsusaka Beef has a low melting point, and is so soft, the fat begins to dissolve at human body temperature. With fine marbling and smooth texture, Matsusaka beef has a rich sweetness and elegant aroma, while offering a delicious umami flavor.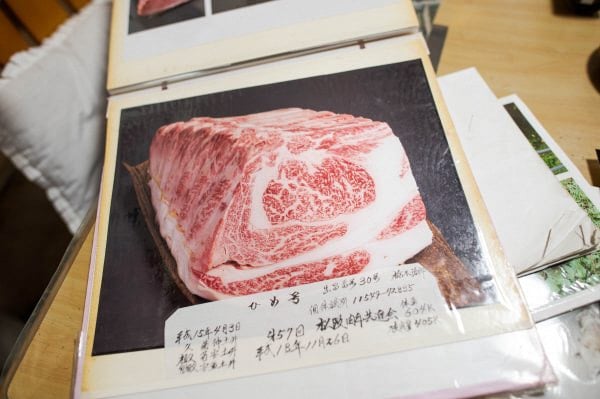 Walking the Path of Life With His Cows
It's nice out! So we took Sayuri, soon to be 3 years old, out on a walk.
When we open her pen and Tochigi-san calls to her, she happily makes her way out.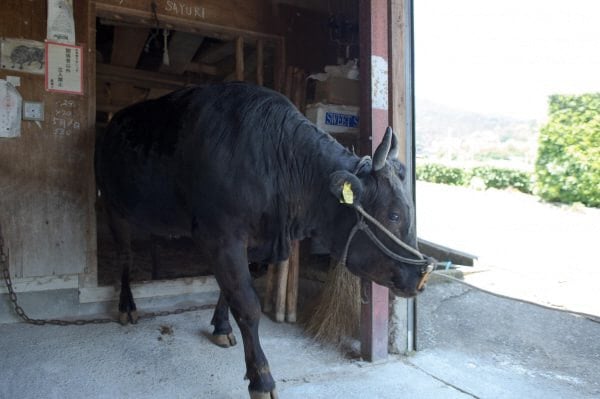 They've been together since she was a calf, so she comes whenever Tochigi-san calls her.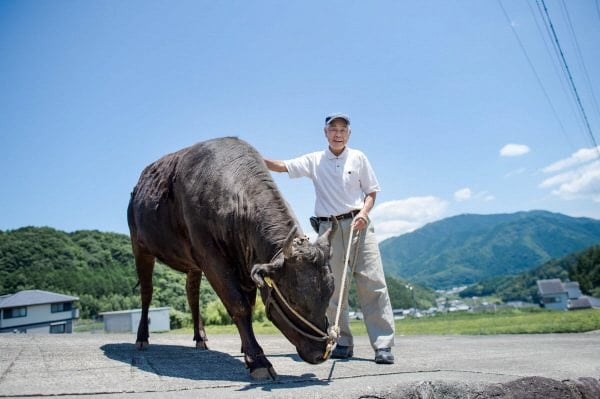 As we walk the spreading rice terraces, Tochigi-san looks warmly at Sayuri, and she sticks close to him. You can feel the trust between them.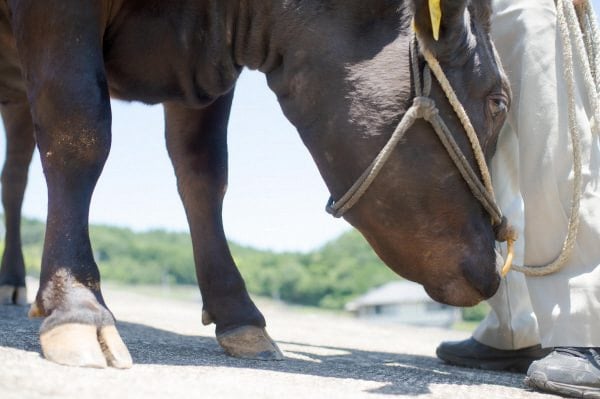 During the walk, some healthy-looking young men came up to us and asked "Can we pet your cow?" Tochigi-san readily consents, and they timidly reach out their hands.

Tochigi-san: "Are you scared? There's nothing to be afraid of. People are scarier (laughs). But even with people, you just have to talk to them. You need to talk to other people, even teenagers."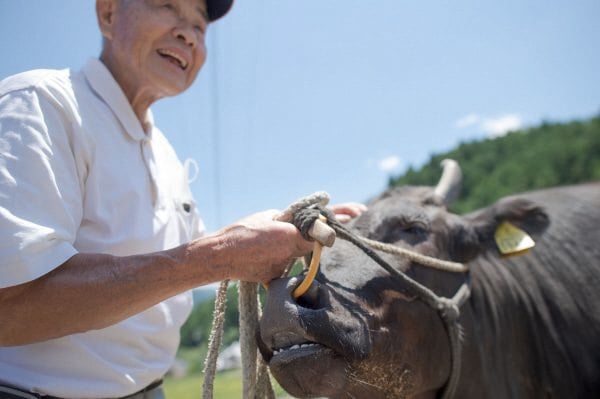 Communication is important, whether it's with people, or cows.

With all the affection that he pours into his cows, I wonder how Tochigi-san accepts the fact that they're being raised for beef.

Tochigi-san: "I don't go to see it. But I'm fine afterwards, when they're beef. The first time I took a cow to the slaughterhouse, I couldn't eat for three days. But that's why we're doing this, so that people can eat them. And giving for the people that raised them, that's what they can offer back."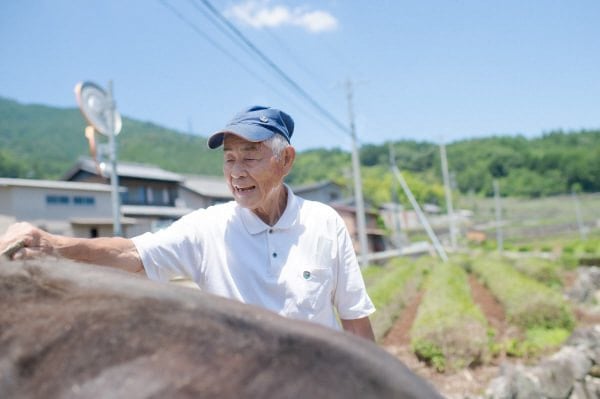 He speaks while affectionately patting the cow's back, gives the young men a smile as they leave, and says "Come say hi again."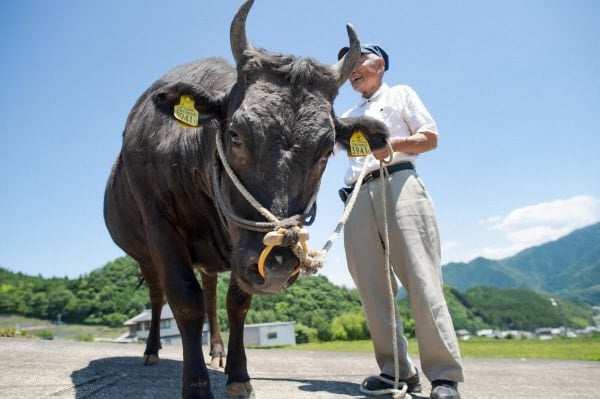 The state of affairs around eating beef has been changing in recent years. A shift in global supply and demand, issues with mad cow disease in 2001, and the foot-and-mouth outbreak of 2010 have contributed to the change. As of writing this (2020), prices of Japanese beef have taken a massive hit.

And even still, Tochigi-san gets up every day at 5am, gives an offering of tea and rice to God and Buddha, feeds his cows, and sees the neighborhood kids off to school. He records the details of daily life in skillful penmanship that he learned at the age of 65. He respects life, approaches both his cows and his work earnestly, and lives soundly and steadily. This is how he built his life as a cattle farmer.

Tochigi-san: I'm only here today thanks to my cows.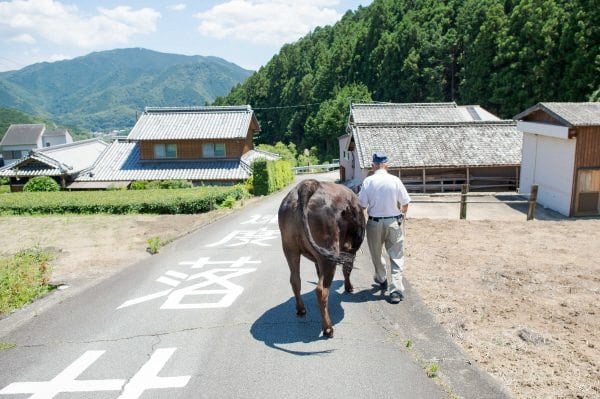 71 years of raising cattle. Tochigi-san has continued through with one job, and even now, walks the path of life with his cows.

A master among masters, in the birthplace of Matsusaka beef.


Writer: Fukuda Miki
photo / y_imura
Date of Visit: June 23, 2020

*Tochigi-san has retired since this article was originally published in Japanese. He sold the last of his cattle at the end of 2021.
*Tochigi-san's cow pen that we featured in this article is on private property, and is not open to the public.
*In accordance with the Act on Domestic Animal Infectious Diseases Control, people from abroad cannot come into contact with livestock within one week of entering the country.


More on the Act on Domestic Animal Infectious Diseases Control
Collaboration - Article by:
Mie ni kurasu・tabi suru
WEB Magazine OTONAMIE

牛飼い人生71年。松阪牛の神様と呼ばれる88歳のレジェンドを訪ねた。