Negative thoughts that keep coming.

That extra thing I say, even when I know better.

The person I can't forget, no matter how much time passes.

Even if I tell myself "It's no good, stop thinking about it," the thoughts keep whirling about.

I had to reset with myself, I went for a stroll through Matsusaka City.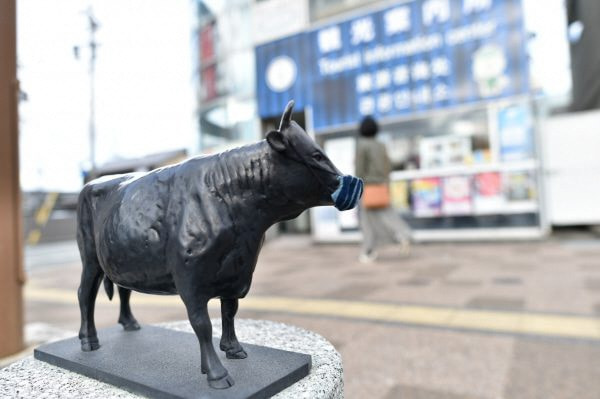 Making sure to take preventative measures against COVID-19, I headed out.

When we talk about tourism in Mie Prefecture, it's mainly Iseshima. If you like history, maybe Iga. If your goal is shopping or trendy cafes, maybe it's Kuwana or Yokkaichi. But honestly, if you're looking for a place to stroll casually that's easily accessible from anywhere in the prefecture, Matsusaka is the perfect place.

First, I help myself to a map at the Tourism Information Desk in front of Matsusaka Station!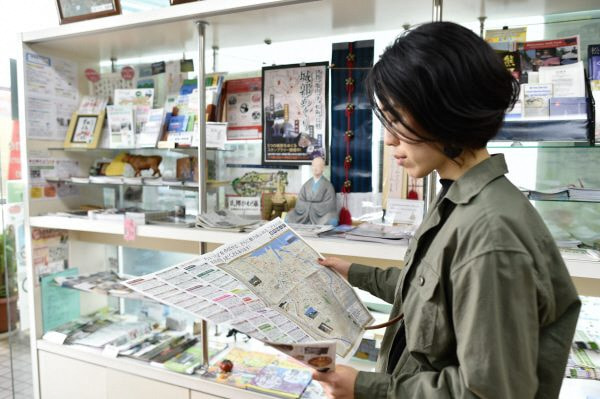 Aside from maps of the city, they also had brochures about a variety of shops.

About a three-minute walk to my first destination.
Turn the corner off the main street, it's suddenly nostalgic alleys.

Even if I get a little lost, I don't mind these types of detours.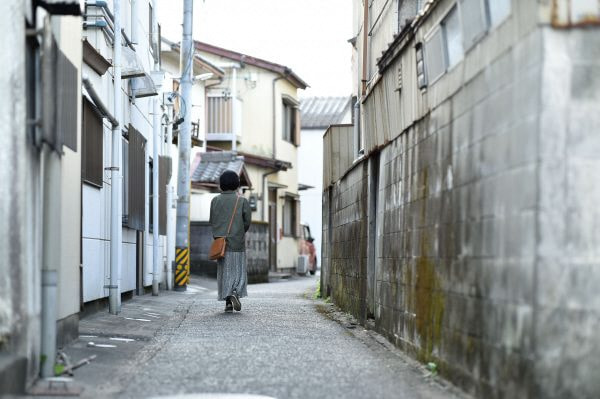 You know, it's alright to take the long way around once in a while.

So I arrived at "Mirokuin Zenpukuji" Temple. It's a famous temple for those breaking connections.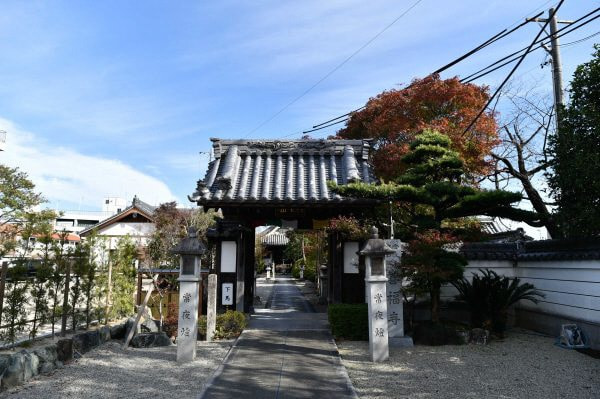 I headed inside the grounds, and the famous monk Kobo Daishi was right there to meet me.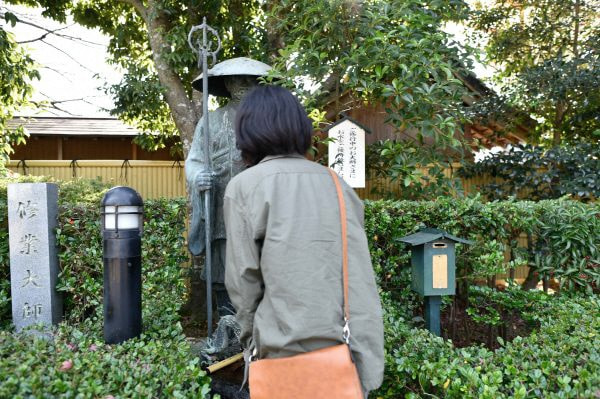 Um…Am I supposed to wash my hands here?

As I was trying to figure out what to do, a kind-looking temple attendant came to speak with me.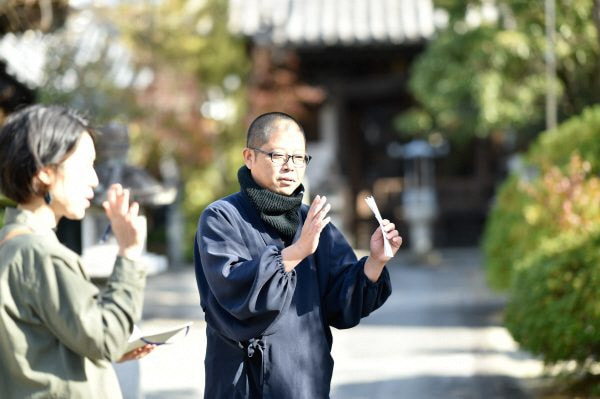 Deputy Chief Priest, Hasegawa Yuko-san.

The proper thing isn't to wash your hands, but to give the statue of Kobo Daishi water as alms.

By doing this, you'll always be connected with Kobo Daishi, and even if you're alone on your journey, he will be by your side to protect you.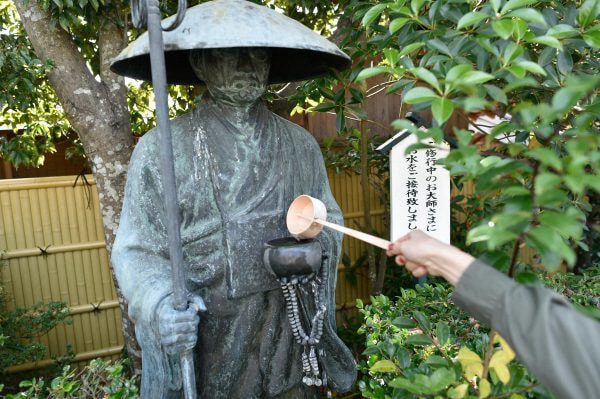 This was the right process.

Next to Kobo Daishi is sacred sand from the temples of the Shikoku 88 for osuna-fumi.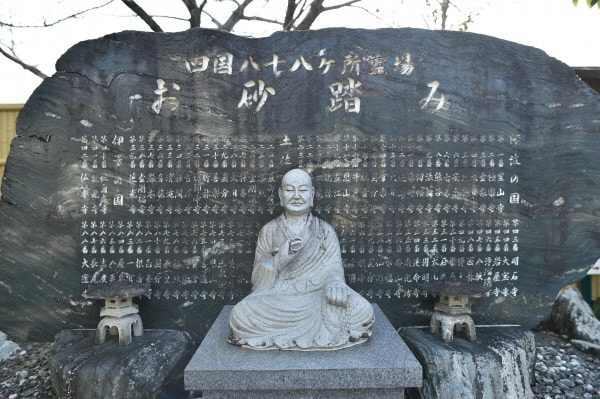 Osuna-fumi is the ultra-easy version of the Shikoku 88 Temple Pilgrimage.

As you chant the prayer of respect "Namu Daishi Henjo Kongo," you walk a loop around stones marked Awa Province → Tosa Province → Iyo Province → Sanuki Province (the old names for Shikoku's four prefectures), and you're said to receive the same benefits of doing the entire Shikoku 88 Temple Pilgrimage.

Apparently, 20 years earlier, the chief priest spent about 3 years walking the Shikoku 88 Temple Pilgrimage, and brought this sacred sand back from the temples.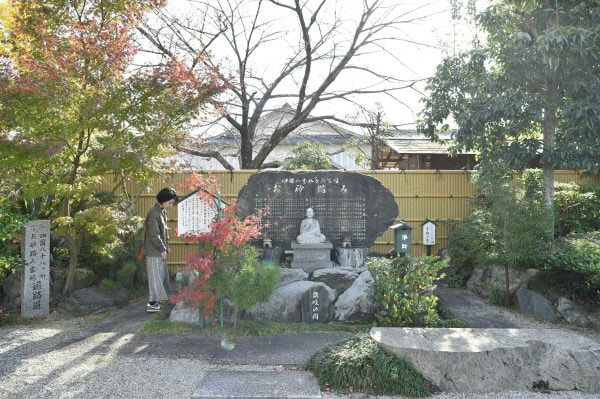 Step, step. And one loop.

I'd heard about a dog that visited the Ise Grand Shrine as a substitute for its master, but to think that I'd be able to walk the sacred grounds of the Shikoku 88 Temple Pilgrimage in Matsusaka!

I respectfully partook in a condensed pilgrimage, where I was able to face myself.

Originally, after you've completed the Shikoku 88 Temple Pilgrimage, you go to Mount Koya in Wakayama prefecture to pay your respects. But since an image of Kobo Daishi is enshrined in the hall here at Mirokuin Zenpukuji Temple, is it enough to pay my respects here?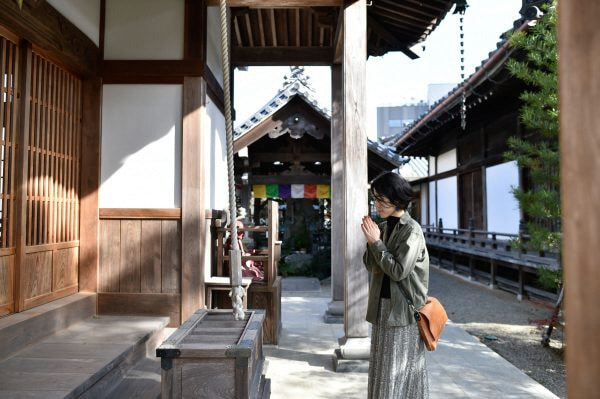 I think I'd like to properly go to Mount Koya one day.

And now, for today's purpose. To visit the Connection Breaker, Fudo Myo-o.

Long ago, when I was told that the Fudo Myo-o could break connections to illness with the sword he held, I was also taught that he could break connections with negative relationships.

You can write more than just people and things you'd like to break connection with on this ofuda slip, but personal habits and traits as well.

As someone who likes to travel, I surely think this is the bad connection I'd like to cut!

Just as I was enjoying beautiful views and eating delicious things for my health, it became difficult to travel even domestically within Japan. The situation has been tough.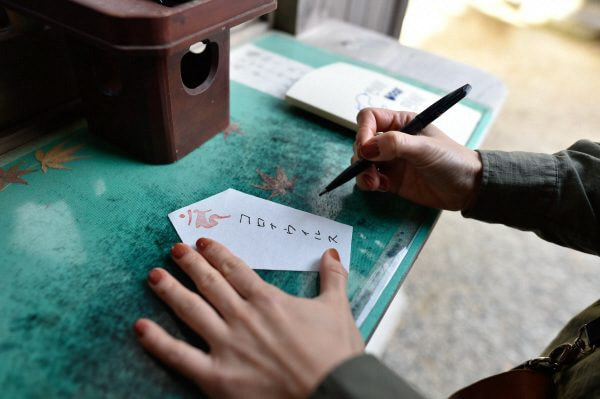 I made a wish that the people of the world would "break their connections" with COVID-19.

Immerse the ofuda in the water…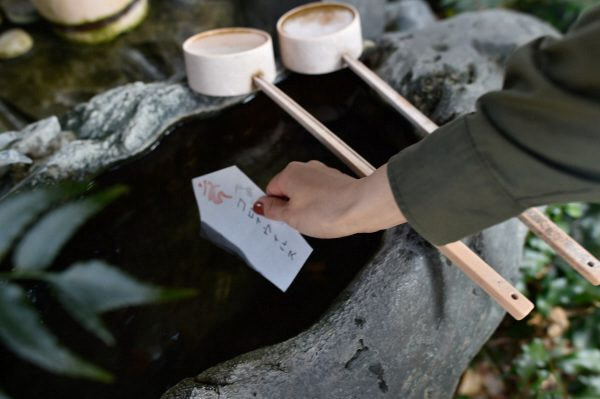 And watch as it dissolved and disappeared.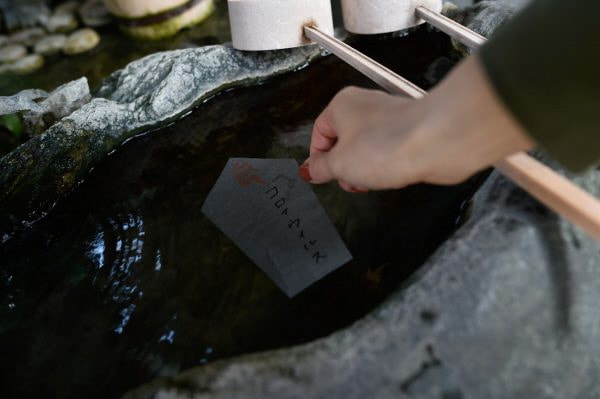 Pour the water for the Immovable King, and he'll cut your bad bonds for you.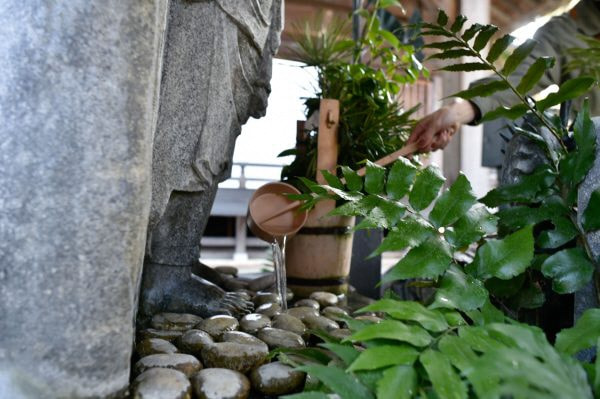 After breaking your bad bonds, the flow of events is to write your wishes on goma, small sticks burned to make prayers.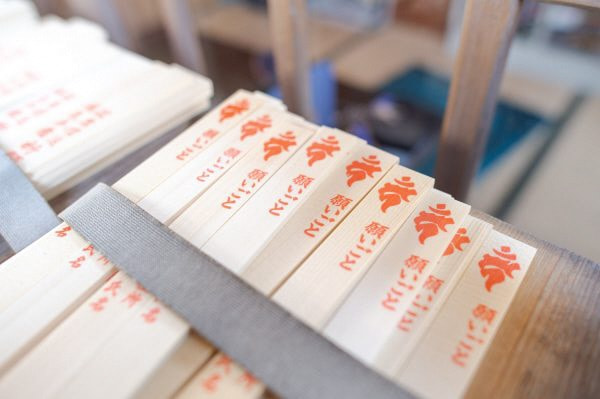 The history here at Mirokuin Zenpukuji Temple is old, and dates back to 773.

Originally the temple was in what's now the nearby town of Matsugashima. In 1588, the feudal lord Gamo Ujisato built Matsusaka Castle, and when he made the castle town, he combined the shrine and temple into a single place and moved it.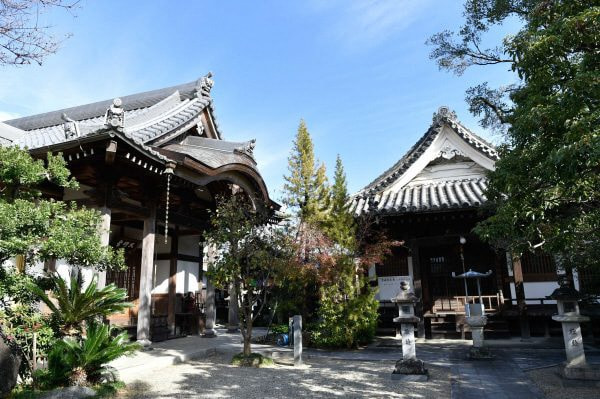 The nearby Yakumo Shrine was also managed by Mirokuin Zenpukuji Temple, and in the Meiji era (1868-1912) during the separation of Shinto and Buddhism, the grounds were split and divided by the wall as it is now.

Just walking around the grounds once, I really get the feeling I'm fully immersed in history.

The Deputy Chief Priest politely told me "Whenever you come to worship, please feel free to reach out to me."

I zoned out for a while in the quiet grounds, listening to the flowing water. Like a calm at sea, my feelings settle down.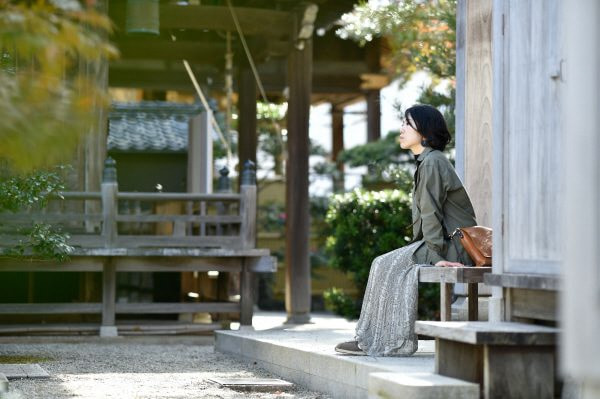 Taking it slow, away from the busy day-to-day. This kind of time might have been what I needed.

From there, I headed to "Matsujiro no Mise," (Matsujiro Honey Store) the honey shop started in the first year of the Taisho era (1912).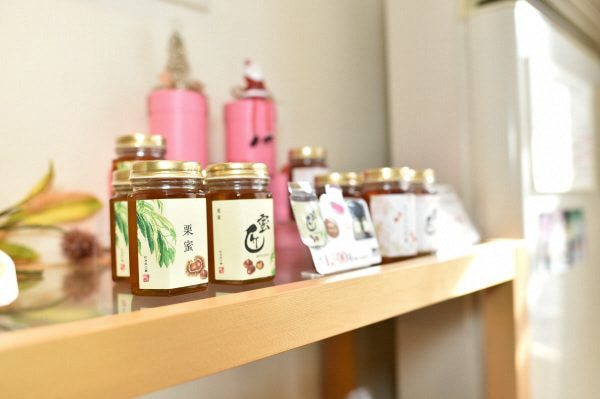 The honey lining the insides of the store shined brightly as if it was welcoming me in. Honey's the perfect gift to please anyone, regardless of gender.

Matsujiro no Mise has maintained its beekeeping techniques since it opened. Since there's such a variety, I took my time examining them while I sample.

When I compared them, I could understand the difference in the rich and silky textures. Brown sugar sweetness here, pleasing fragrance there.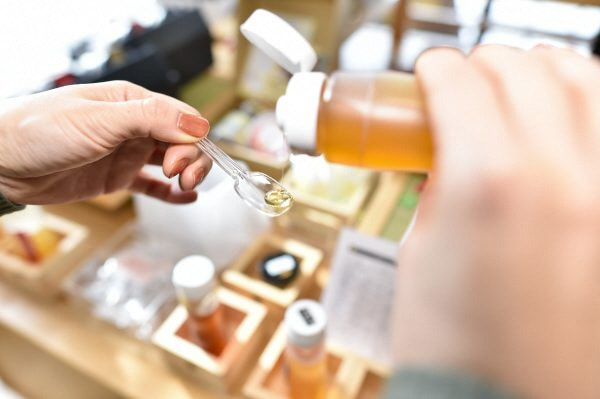 A popular gift is honey from the flowers in the Matsusaka and Ise areas.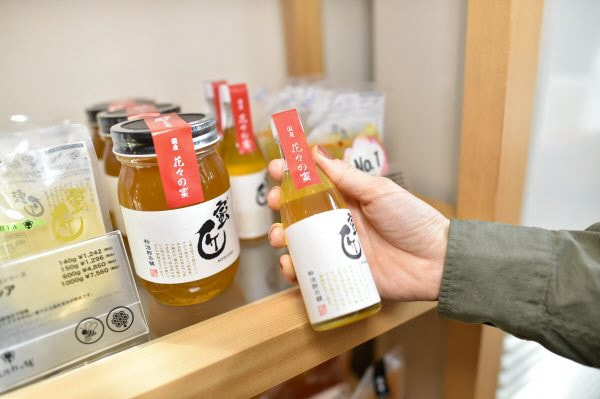 Additionally, the store had honey confections and Manuka honey, cosmetics and bath products, as well as beeswax. They also said by warming up the wax, adding an aroma oil you like, and hardening it, you can make your own original lip balm and hand lotion. ♪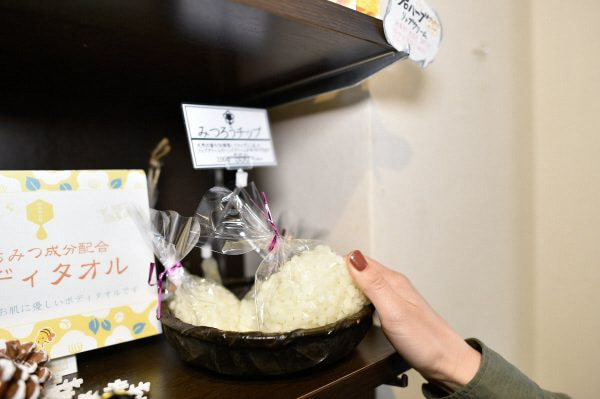 For something you put on your skin, it sure is nice to add a fragrance you like. It seems beeswax has the benefit of making your skin smooth and silky.

Something I absolutely had to eat here was "Honey Wafer Ice Cream." It's a cute, round ball of ice cream sandwiched between wafers that looks like a pearl oyster.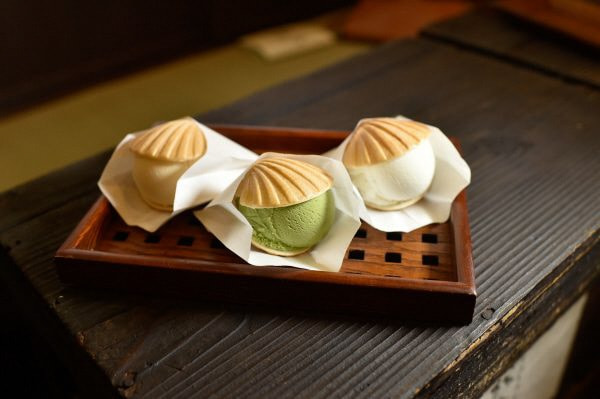 I had trouble deciding among the "milk" flavor that uses the flavors of local milk and honey, the subtle sweet of kinako (roasted soybean flour), or the matcha straight from a specialty store in Kyoto.

The wafer (Japanese monaka) is a handmade, artisan craft using rice from Niigata prefecture. The crispy texture and richness of the ice cream are just the right match. After clearing my heart with Fudo Myo-o, I'm soaking in this sweet time. Thank you for the feast.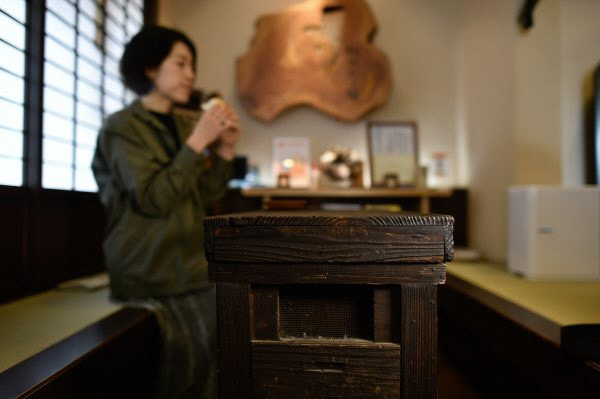 Using what was once a real beehive as a table: Itadakima-su!

Next, as I stroll around the shopping district, my eye stops on "Dagashi no Ai-ya" (Ai-ya Confectionery).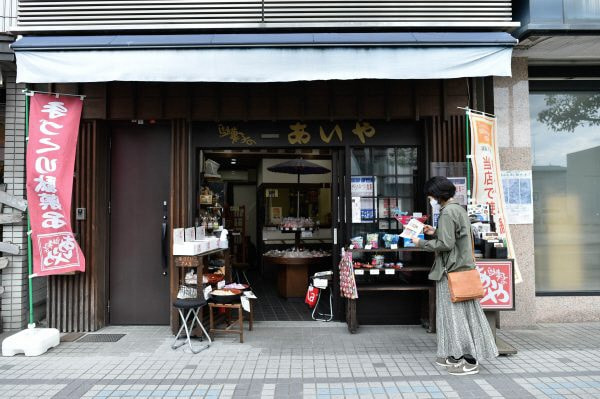 It opened around 1916. Just like the old days, they're still making sweets by hand!

3rd generation owner Yoshida Masahiro met me with a warm smile.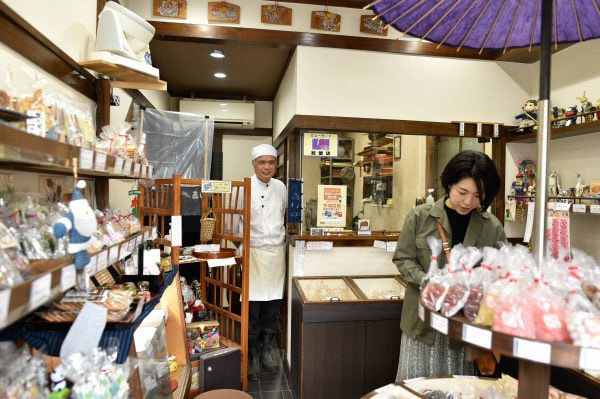 The sweets with a red "Ai-ya" label on them are all handmade in house. There are many nostalgic items, like hard candies and local confections using mint and cinnamon, and penny candies made from flour.

As I look at the handmade sweets, just sweeping my eyes around the store brings back a childlike excitement in me. Time to decompress like this sure does the spirit good.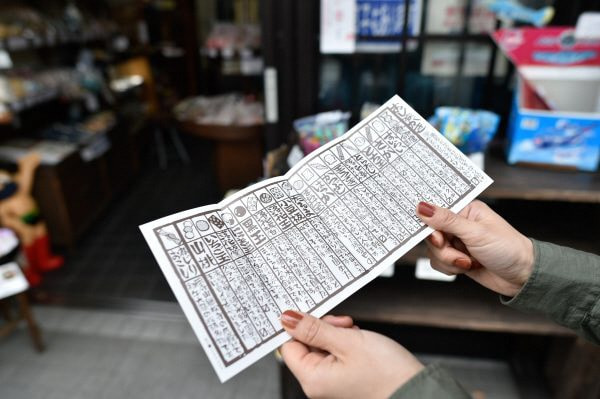 I can't get enough of this handwritten menu.

It also makes me happy to see sweets being made. Since they're handmade, there are no preservatives. Everyone from kids to seniors can eat these with peace of mind. The care they take in every step of the process must be why everyone loves the confections here.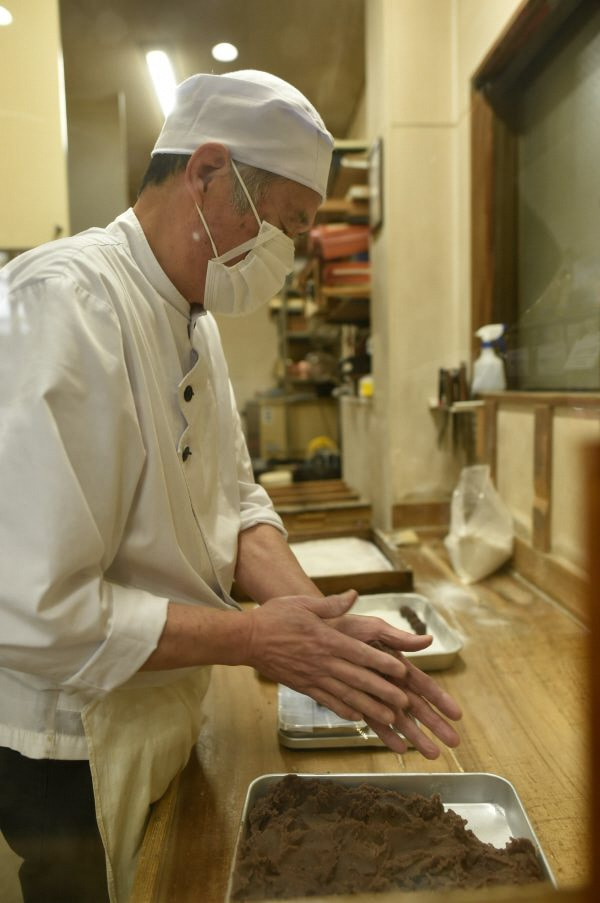 Nostalgic wood-frame cases. Apparently they used to sell sweets by weight, but as a COVID-19 preventative measure, everything is sold in bags now.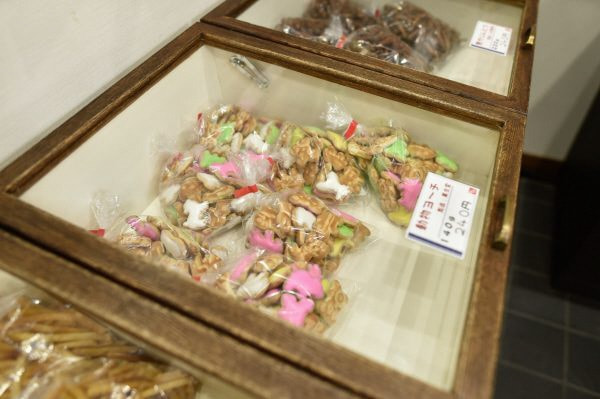 I want to try everything, and ended up buying a lot. In my heart, I kept reciting "You've been giving it your all, so this little bit is alright."

When I'm caught up in daily life, I always get around by car to prioritize efficiency. I'm basically going straight from door to door.

It's been a while since I've walked leisurely, and the chill in the breeze and the flowers blooming on the side of the road showed me the seasons were changing. When I noticed, it's surprising how quickly the evening sets in.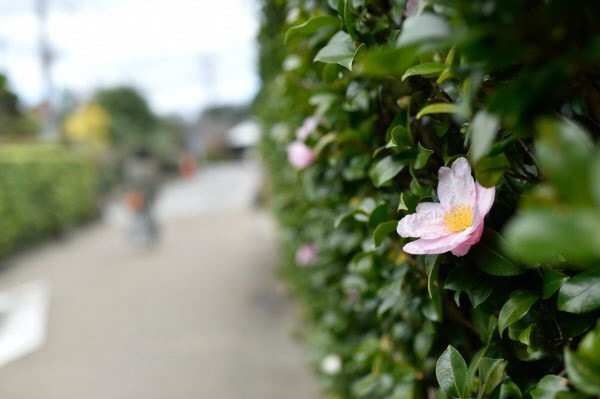 The area around Matsusaka Castle was overflowing with elegance, and the Castle Guard Residences and townscape made it the perfect walking course.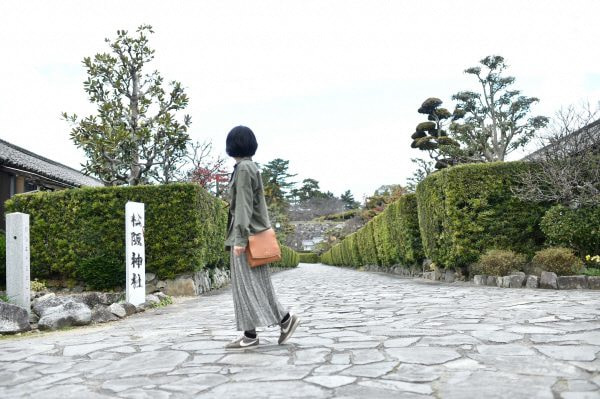 My last destination was a Jizo (a statue that protects children and travelers) that will grant my wishes called "Horimen Jizo."

I'd been walking along small back streets, so emerging to a place facing a major road was a shock!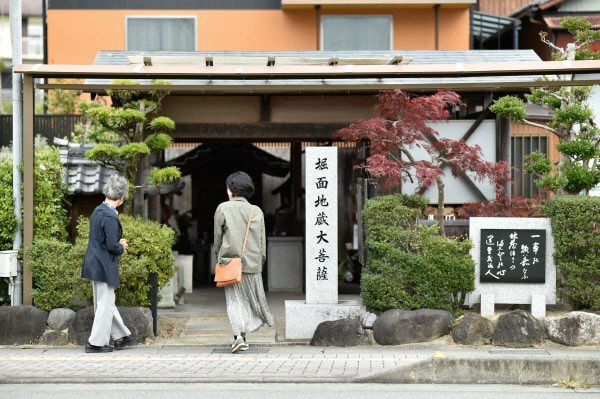 When they were building the castle town of Matsusaka, the arteries to strategic points weren't built in straight lines, but at angles. Apparently, the confusing terrain was so that enemies wouldn't be able to attack in large numbers. I've heard many places here are still like that, which makes sense why I always get lost.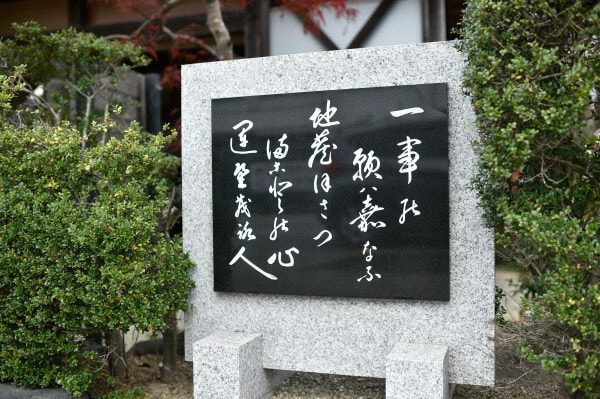 It seems there are a number of Jizo around the country that will listen to "a single phrase," but the Horimen Jizo is a just bit rarer, as it will listen to "a single wish."

The origin of the name comes because the moat ("hori" in Japanese) of Matsusaka Castle is so close. It moved to its current location in 1941, and next year will be 80 years.

While I was there, there were a number of people who lit incense, rang the prayer bell, and said their prayers in a very natural way. It seemed paying respects to Horimen Jizo is a part of everyday life here.

There are many ema (votive tablets with peoples' wishes) packed together, and just about as many with the words "Thank you very much." There must be so many "single wishes" gathered here because the Horimen Jizo is beloved by the local people.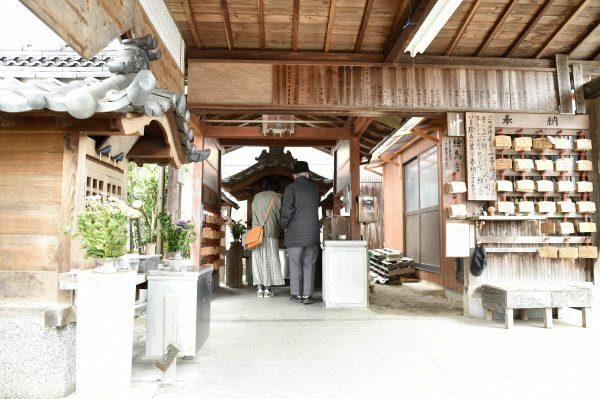 I listened to the explanation of a member of the support group looking after the Horimen Jizo.

I also put my hands together in prayer and made a wish of the Jizo.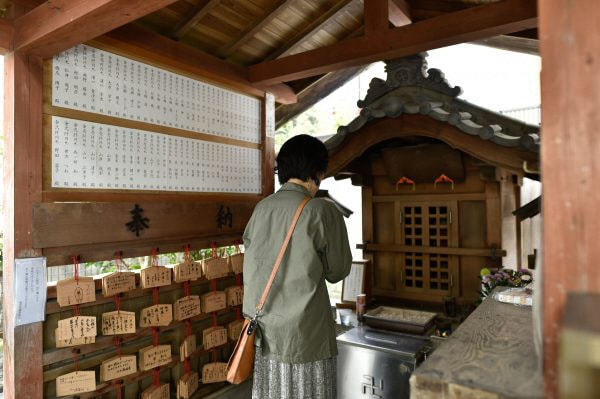 After getting chilly from walking around, I stopped by "Yamasaku," a store for people who love sweets, to warm up.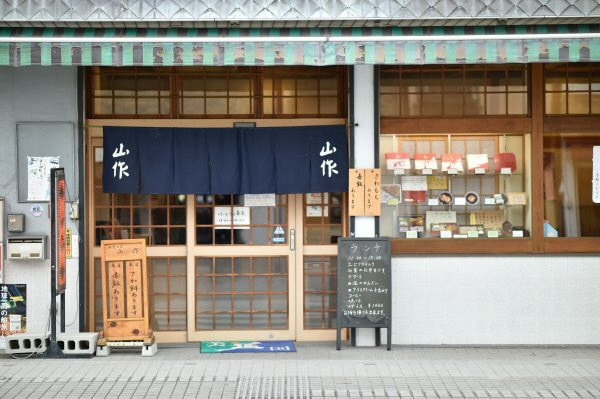 Although I was tempted by the sekihan (sticky rice cooked with azuki beans) and the sawa mochi (red bean paste wrapped in mochi), I found myself blowing on some piping-hot zenzai (red bean soup with mochi).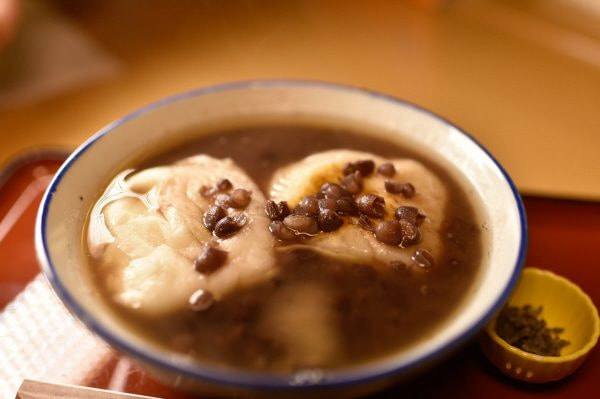 It's hot, delicious, and warms me up.

I began my walk through Matsusaka to distance myself from my distressed feelings.

I found something by taking a moment to face myself. My spirit felt refilled by the warmth of the local people, and by sharpening my senses with a walk, I've made a new discovery. I suppose I may have lost sight of things around me, and gotten caught in an endless loop.

Just the emotional reset that I needed. Goodbye, whirling thoughts. Tomorrow, I'll give it my best.


*Masks were removed only while photos were being made.

Total distance among all sites was about 2 kilometers from Matsusaka Station. With breaks along the way, it's a nicely walkable course.

photo / y_imura
Originally published in Japanese in 2020

【取材協力】
Collaborators

みろく院善福寺
Zenpukuji Temple
701 Hinomachi, Matsusaka, Mie 515-0084
Tel 0598-26-0369
https://www.facebook.com/mirokuinzenpukuji/

松治郎の舗 松阪本店
Matsujiro Honey Store
1873 Nakamachi, Matsusaka Mie 515-0083
Tel 0598-26-8133
https://www.matsujiro.shop
(Japanese website)

駄菓子のあいや
Ai-ya Confectionary
1869-8 Nakamachi, Matsusaka, Mie, 515-0083
Tel 0598-21-5861
https://yoiho-mall.com
(Japanese website)

堀面地蔵
Horimen Jizo
1465-62 Tonomachi, Matsusaka, Mie 515-0073
https://horimenjizou.web.fc2.com
(Japanese website)


【タイアップ・記事制作】
三重に暮らす・旅する
WEBマガジン OTONAMIE

Collaboration - Article by:
Mie ni kurasu・tabi suru
WEB Magazine OTONAMIE


■HP http://otonamie.jp
■Facebook https://www.facebook.com/otonamie
■Twitter https://twitter.com/otonamie
■Instagram https://www.instagram.com/otonamie/
■LINE http://line.me/ti/p/%40nxt7750e
さよなら、頭の中のもんもんぐるぐる。自分と向き合うリセット散歩@松阪市