The Ministry of Agriculture, Forestry and Fisheries of Japan and its Singapore counterpart have agreed on a bilateral agreement on a
simplified form of certificate
for travelers to export beef, pork, and their products produced in Japan to Singapore
for personal consumption, held in hand-carry luggage.

What does this mean?
This means that you can bring your favorite Matsusaka beef and its product back to Singapore easily
without undergoing inspection
at the animal quarantine services in the airport!
How does it work?
- Some shops have already made the necessary procedures in advance to secure the certificates needed for customers to bring the meat and its products back to Singapore.
- Each customer is only allowed to bring back a
maximum of 5kg
of beef, pork, and their products.
- The certificate will be attached with the product during purchase.
- With this certification, the product will be able to bypass customs
without further inspections
at animal quarantine services in the airport.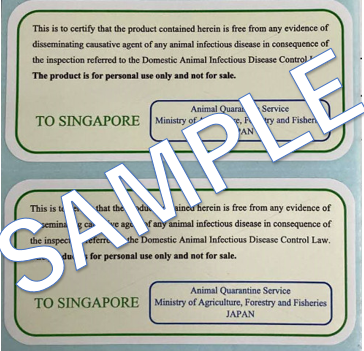 For official information about the rules, click here
Find the closest shop that carries the certificate, purchase some Matsusaka beef back home, and share this amazing experience with your friends and family!
Shops that carry the certificate (as of October 2022)
A waiting time of 30 minutes is required for the preparation of the certificate. To reduce waiting time, please email info@matsusaka-kanko.com directly in advance.

1) Marunaka Butchery (丸中本店)
Address: 1843-6 Nakamachi, Matsusaka, Mie 515-0083
Operating Hour: 8:00~18:00 (Closed on Sunday and Monday)

2) Souvenir shop, Matsusaka local specialties [located right outside of Matsusaka station] (まつさか交流物産館)
Address: 301 Kyomachi, Matsusaka, Mie 515-0017
Operating Hour: 9:00~18:00